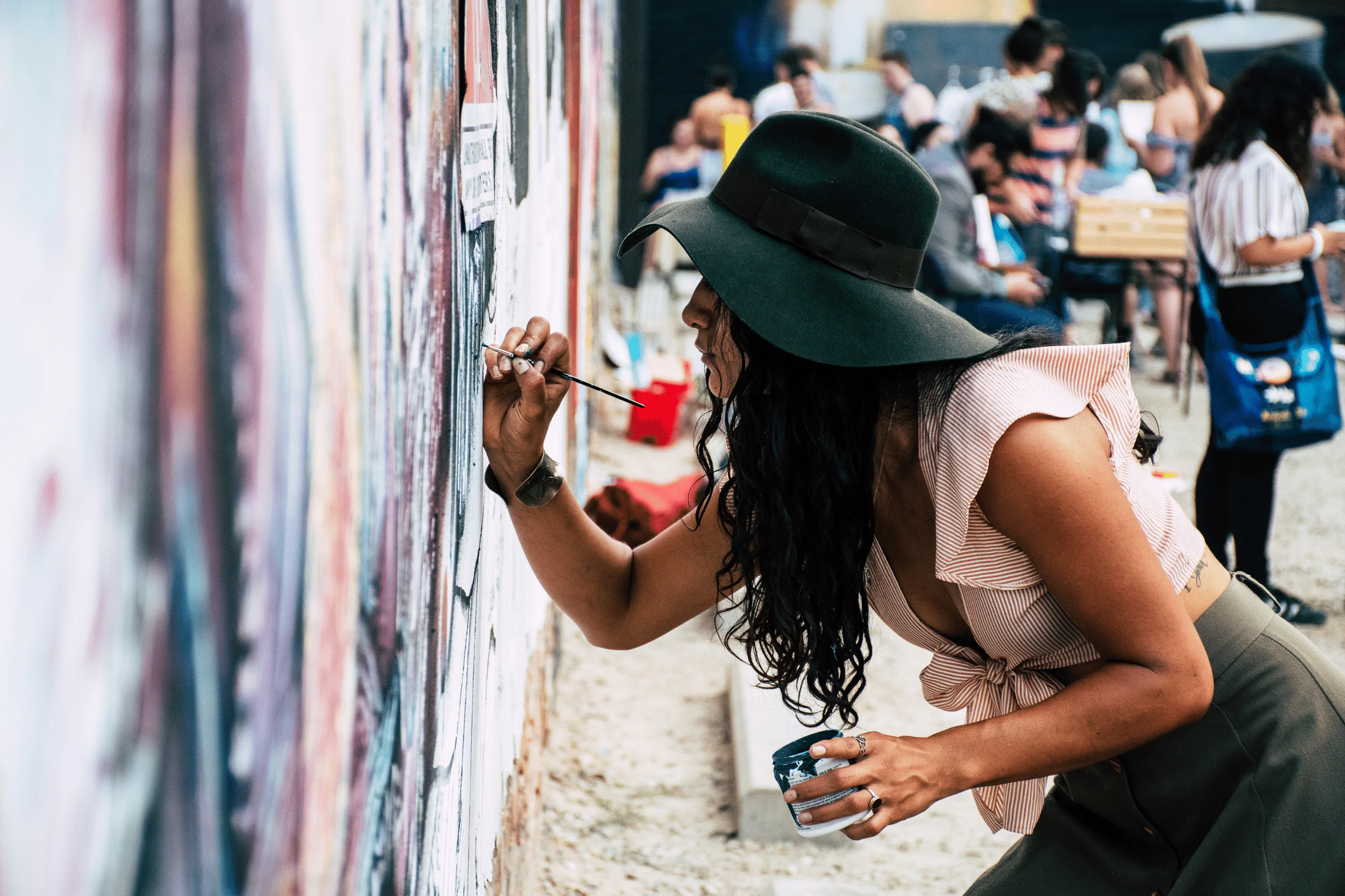 March 25, 2022 5:47 pm
Whether it's grabbing a bite from one of the award-winning restaurants or doing some shopping at a local boutique, there's always a good reason to spend a day in downtown Bastrop. The charming downtown with its historic brick storefronts is the perfect blend of "Texas' past and present."
One of our favorite downtown events is the First Friday Art Walk. Bastrop has quite the burgeoning arts scene with a number of galleries featuring locally made pieces as well as visual and musical artists. The First Friday Art Walk happens on the first Friday (hence the name) of each month and invites residents and visitors to immerse themselves in the city's flourishing arts culture. It's a wonderful way to enjoy all downtown has to offer, in a fun and casual social setting.
The Art Walk Details
When: Every first Friday of the month from 6 PM to 8 PM. 
Where: Main Street in Downtown Bastrop.
This dynamic monthly event is free and age-appropriate for the entire family to enjoy. While participating artists and demonstrations can vary from month to month, previous Art Walks have included a variety of events that allow patrons to both see and shop art as well as create it!
Music fans have had the opportunity to participate in drum circles and pickin' parties, while kids have had the delight of playing with bubble wands and having their faces painted. There are also live glass blowing demonstrations as well as a community graffiti wall, allowing visitors to sketch out a drawing or special message.
Local galleries
Obviously, one of the most appealing parts of an art walk is checking out all of the local art. A number of galleries and downtown shops will be opening their doors for the art walk, so be sure and stop in!

AMC Creations: Artist Alex Cosby specializes in jewelry and stone, but that doesn't mean you won't find the occasional quirky sculpture in his gallery.

The Bridges Emporium: This space houses seven art shops, each unique in its own way. From paintings to sculptures, wall art, and jewelry, visitors are sure to find something new with each visit.

Cool Stuff Gallery Shop: Expect to find some pretty cool stuff in this funky little art shop including primitive folk art and hand-painted furniture.

Linda Kjellberg Artworks: Linda's been painting for 40 years and is a master of watercolor, using her brush to create everything from lush landscapes to classic architecture, or whatever else catches her eye.

Monarch Art Gallery: This artist-run gallery features beautiful pieces in a range of mediums including photography, oils, watercolors, as well as pottery and tile mosaics.

Painted Bunting Arts & Gifts: Painted Bunting has the mission of making "everybody's world just a little more artful." The gallery is run by three artists, all with a painting style uniquely theirs.

Not only is First Friday Art Walk a fun opportunity to support local art in Bastrop, but you're bound to work up an appetite after all that walking. From local breweries to pizza, steaks, and sweets, finishing the evening at one of downtown's local restaurants is the perfect way to end the art walk.

Community events like this are just one of the reasons people love living in Bastrop. If you'd like to find a home here, reach out to learn more about available homes at The Colony.

Tags: Bastrop First Friday Art Walk, Bastrop Texas, Downtown Bastrop, new homes in Bastrop, The Colony Bastrop, The Colony Living


Categorised in: Bastrop Local, Uncategorized

This post was written by Jennifer Haveman