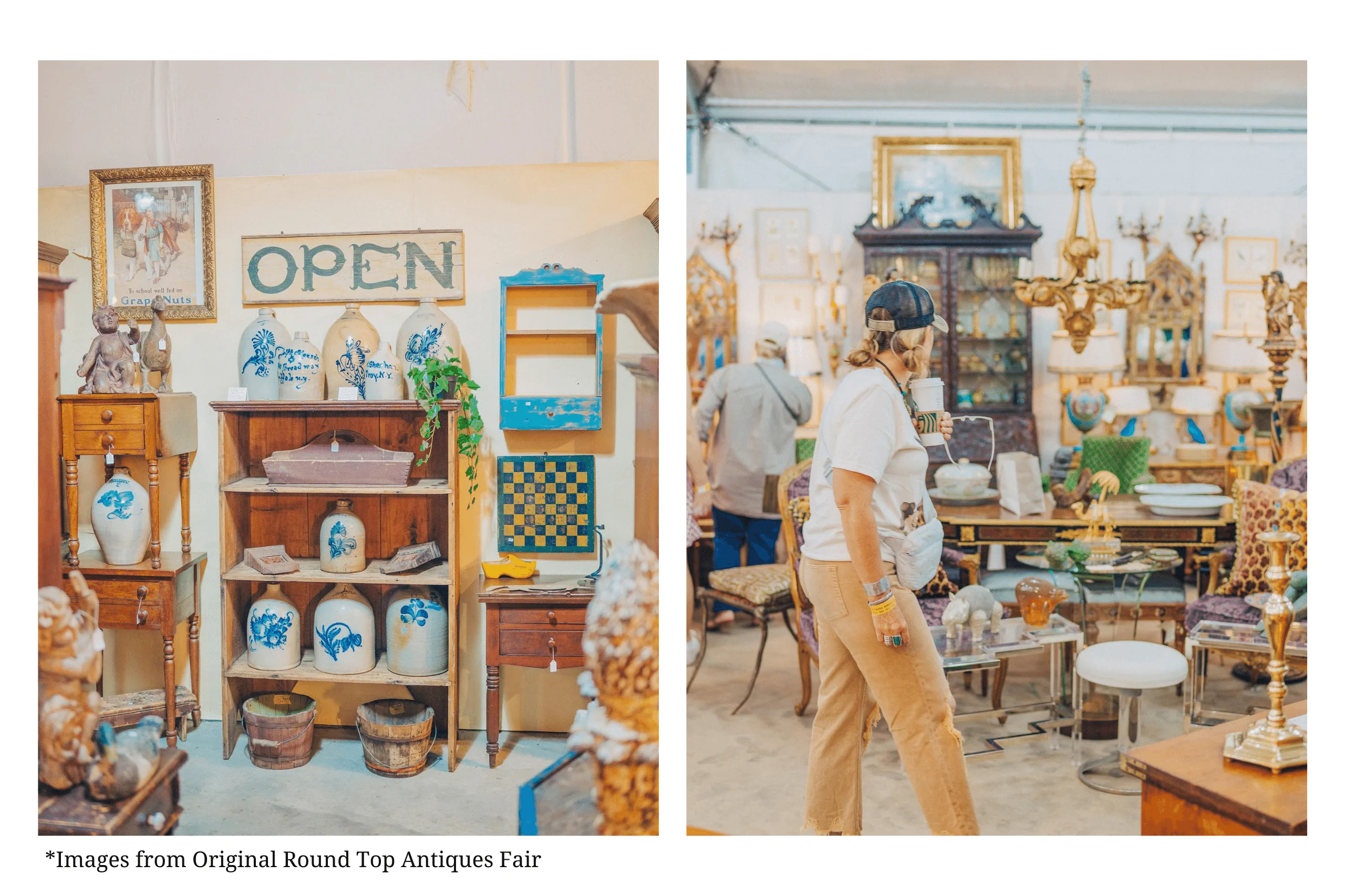 November 18, 2022 7:31 pm
Nestled 45 minutes east of Bastrop lies the tiny town of Round Top, Texas. While hardly a bustling metropolis (93 people called Round Top home during the 2020 census), the town is well known to antiquers, shoppers, and tourists around the world searching for a specific kind of retail therapy.
At various times throughout the year, Round Top is full of people bustling around their World Famous Antiques Show, Christmas market, local restaurants, festivals, and more. We're going to give a brief rundown of Round Top's antique show, where to stay, where to eat, and some more places to visit.
The next time you're looking for a fun new adventure close to home, head east to Round Top and see for yourself what this small town has to offer.
What's Going on in Round Top?
World Famous Antiquing
The Round Top Antiques Show has over 65 venues in about a 20-mile radius (Round Top, Warrenton, Carmine, Burton, and Fayetteville). All venues within the show operate independently and set their own open/close dates with antiques ranging from early American country, textiles, and art, to Continental furniture and accessories. With so many options to choose from, you will likely leave with a few (if not more) rare finds to add to your home or closet.
The next Antique & Design Show in Round Top is scheduled for January 19th-22nd, 2023. It can be helpful to do a little research beforehand to narrow down where you want to go and how to get there. Visit the Round Top Antique website to get tickets and plan your visit.
Food and Wine in Round Top
The Stone Cellar and Round Top Dancehall
Food, beer, wine, liquor, and two-step dancing are all available at the newly reopened Stone Cellar. They feature live entertainment every Friday, Saturday & Sunday, and were voted one of the 10 Best Dance Halls in Texas.
Joe's Place
Located in Fayetteville, TX (120 N Live Oaks St) and open Wed-Sun, Joe's serves good ole American cooking, including steak, seafood, burgers, and more. Stop by for breakfast, lunch, and dinner. They also have a bar if you're in the mood.
Majek Winery
Open Wed-Sun, 12-6 pm, Majek is one of South Texas' most award-winning wineries. You can taste and buy their wines while enjoying the views of their 1.5-acre vineyard in the Texas Hill Country. Enjoy a charcuterie board with a tasting during the week, or stop by on Saturdays and Sundays to pair the wines with their full menu.
Kasey Massey's Casa Blanke
Founded by Round Top's first lady, Casa Blanke offers locally-sourced, plant-based, and tasty food. Meet your girls for an acaì bowl, a superfood smoothie, or other great bites in a peaceful, bright environment at Casa Blanke for breakfast and lunch Thurs-Sun, 7:30-2 pm.
Lodging
Blisswood Bed & Breakfast is a great choice if you're looking to make a long weekend or vacation out of your trip to Round Top. This 350-acre working ranch in nearby Cat Spring, TX offers accommodations such as secluded cabins or glamping units, as well as outdoor activities, great food, and more to enjoy.
Fun Trips Near Bastrop
When people need a night out or a fun day trip near Bastrop, most head to Austin. While Austin has great concerts, upscale dining, and everything else the city offers, there are plenty of other options near Bastrop.

A lot of people don't realize that if you just drive the other direction (east) for the same amount of time, you'll be in Round Top. It provides an equally rich experience as the city, but in a totally different context. Austin gives you a big metropolis to enjoy, and Round Top is a charming small town offering the perfect getaway. Bastrop conveniently falls in the middle of the two, both literally and figuratively, making it the perfect place to put down roots.

If you're planning on moving near Austin and you're struggling to find the perfect new place to settle down, The Colony is the perfect option. Our master-planned community has new homes from the area's top builders ready for your family. Our community offers peace and quiet, the best amenities, and open spaces near Austin.

Don't compromise on your new home. Choose to live where you and your family will thrive and grow. Come and see for yourself how life unfolds at The Colony. Contact us to find out more.

Tags: Antique shopping, Bastrop local, Bastrop Texas, life in Bastrop, Near Bastrop, Round Top, Round Top Antiquing, The Colony, The Colony Bastrop


Categorised in: The Colony

This post was written by Jennifer Haveman