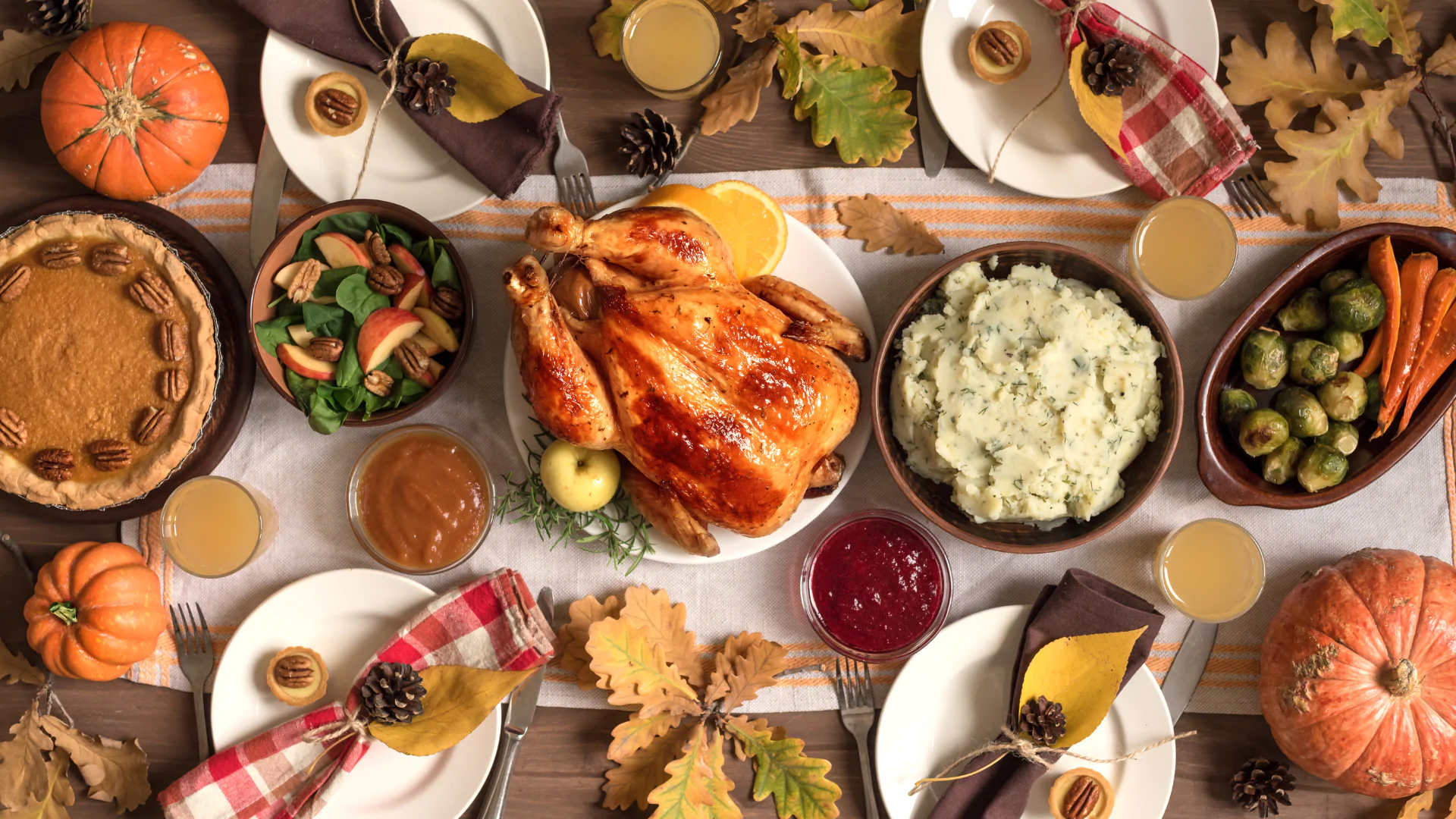 November 17, 2023 3:05 pm
Whether you're cooking for a few or a large gathering this Thanksgiving, you may feel overwhelmed with the tall task ahead. No need to grow gray hairs this holiday season — this is when your kitchen transforms into a place of magic, where cherished family recipes and new culinary adventures unite. From the glorious turkey to the delicious cranberry sauce, our menu and tips are an invitation to create unforgettable moments, one bite at a time.
Juicy Roasted Turkey
First, the turkey! The turkey is the centerpiece, but it's not the easiest meat to keep juicy. With the proper planning in place, you'll have an excellent chance, starting with purchasing a decent-sized bird. We recommend between 1.5 and 2 pounds per person for plenty of food and leftovers!
When the big Turkey Day arrives, you may have to set your alarm pretty early depending on the time of your feast. If you are not planning on actually stuffing your turkey, your bird will need to cook for at least 15 – 20 minutes per round. Loosely cover the whole turkey with foil and roast at 325°F, then use a meat thermometer to ensure the internal temp is 165°F. A roasting pan gives the best result — and you don't have to fill it with water because the bird's juices will be enough! For crispy, golden-brown skin, remove the foil 15 minutes before the end, smear with seasoned butter (try rosemary citrus or garlic thyme), and finish cooking it uncovered.
Try these dos and don'ts to help with your stuffing or dressing. First, don't stuff the bird! It'll be a mushy, tasteless mess. And don't use fresh bread; it should be hard to soak up liquid and seasonings. Ensure all the flavors are in each mouthful by cutting ingredients into bite-size pieces. Also, make it ahead and freeze or refrigerate until needed. Then, to get a crispy, golden-brown crust and firm texture, dot the top with chunks of butter and uncover during the last 20 minutes. Finally, don't trash leftovers. Use them to make meatballs, meatloaf, or a breakfast frittata.
Easy Cranberry Sauce
Did you know homemade cranberry sauce is simple and quick? You only need five ingredients and 20 minutes! If you are looking for more of a tangy taste with less sugar, this recipe is sure to become a family favorite. You can easily make it ahead of time to make Thanksgiving Day a breeze.
Great Pumpkin Pie
Finally, impress everyone with a pretty pumpkin pie. Add a few special touches, like sugared cranberries and leaf-shaped crust accents, to make it extraordinary. To amp up flavor, add fresh ground black pepper. We recommend mixing the filling one day ahead to blend spices and also removing the pie from the oven while the center is wobbly to avoid cracks.

You'll create fantastic holiday meals in the modern kitchen of your new home at The Colony. You'll have all the latest technology and plenty of space to truly reach your culinary potential! Contact us today to find your holiday happiness in a new home.

Tags: Bastrop Texas, Cooking, holidays, Recipes, Thanksgiving, The Colony, The Colony Bastrop, tips


Categorised in: Lifestyle, The Colony

This post was written by Jennifer Haveman