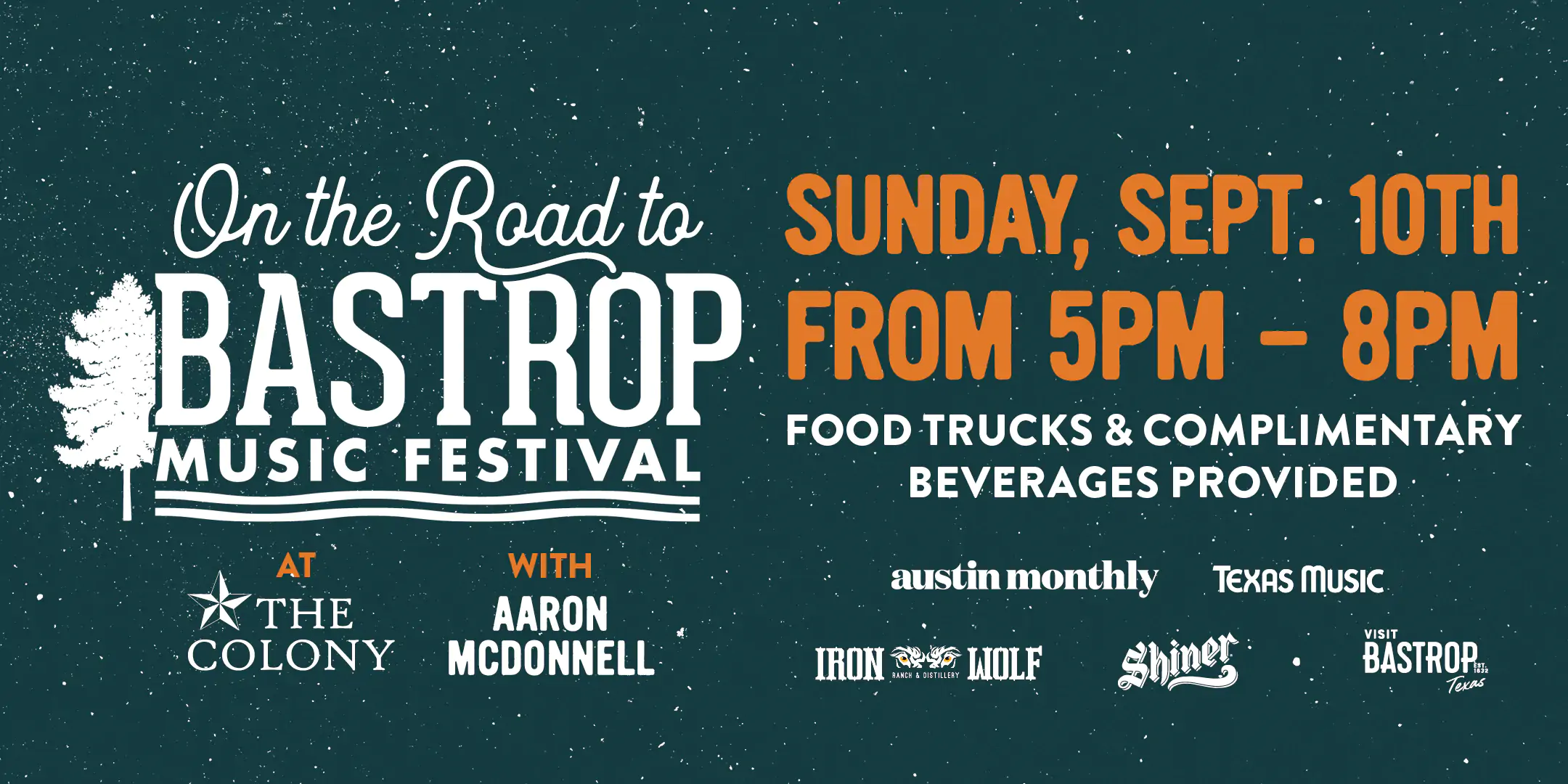 September 8, 2023 3:29 pm
September has arrived in all of its much-anticipated glory! With it comes the promise of cooler evenings and the vibrant hum of live music in the air. As the sun begins to set a bit earlier, the stage is set for Bastrop's live music scene to shine — and many stages will be filled throughout the month!
On the Road to Bastrop Music Festival — AT THE COLONY
Start right here at The Colony at our On the Road to Bastrop Music Festival! From 5:00 – 8:00 PM on Sunday, September 10th, our gorgeous Lakehouse Park will be full of music fans. The event is free and fun! Big Frank's food truck will be serving delicious food for purchase, and you can enjoy complimentary beverage tastings from Iron Wolf.
Pauline Reese is slated as the opening act, and she is sure to get the party started off right! And don't miss Aaron McDonnell's old-school country afterward—you may get the first look at a future star! McDonnell is a veteran of the annual Bastrop Music Festival, the next event on the music calendar this month.
Bring chairs, blankets, and even your furry friends on leashes. Purchase discounted wristbands for the Bastrop Music Festival that night, and you might even win free tickets to the event! RSVP here. Please park in the Colony Oaks Elementary parking lot, located right next to Lakehouse Park!
Bastrop Music Festival
Now that you're prepared, celebrate the Lost Pines region with a showcase of the best of Texas during the Bastrop Music Festival. Enjoy live music day and night along the Colorado River in Historic Downtown Bastrop September 21st-24th. Catch shows from more than 40 performers! Many daytime shows are free, like Janie Balderas, John Dempsy, Manzy Lowry, Andrew Kreitz, Keeled Scales Artists Show, and Lind Greene & The Soultines. Plus, there are special shows just for kiddos.
You'll need a wristband for the nighttime shows to see Two Tons of Steel, The Peterson Brothers, Sour Bridges, and the Chubby Knuckle Choir, to name a few. Check out the whole lineup and schedule here.
You can even kick back at Neighbor's Kitchen & Yard during the festival for some of the shows. See Justin Langston, Sir Woman, The Mighty Or, Madam Radar, and more at the outdoor venue on Chestnut Street. Check out the full list here.
Live Music Every Weekend
You can also catch live music every weekend at Neighbors! Coming up are Austin-based blues band Rochelle and the Sidewinders, alternative rock trio Bottlecap Mountain, "Texassipi " country crooners Danny Brooks & Lil' Miss Debbie, and rockabilly duo The Phantom Shakers.

Or be the star of the show at Karaoke Nights on Wednesdays and Fridays at Old Town Restaurant & Bar on Main Street. Come early to grab a chicken-fried steak, New York strip, or jumbo wings and a drink to fuel up for your big performance.

Please join us at our FREE On the Road to Bastrop Music Festival! We want to show you how much fun we have in The Colony community and invite you to make your home here. Contact us today to learn more about finding your dream home.

Tags: Bastrop local, Bastrop Texas, fun in Bastrop, life in Bastrop, Live music in Bastrop, The Colony


Categorised in: Bastrop Local, Lifestyle

This post was written by Jennifer Haveman