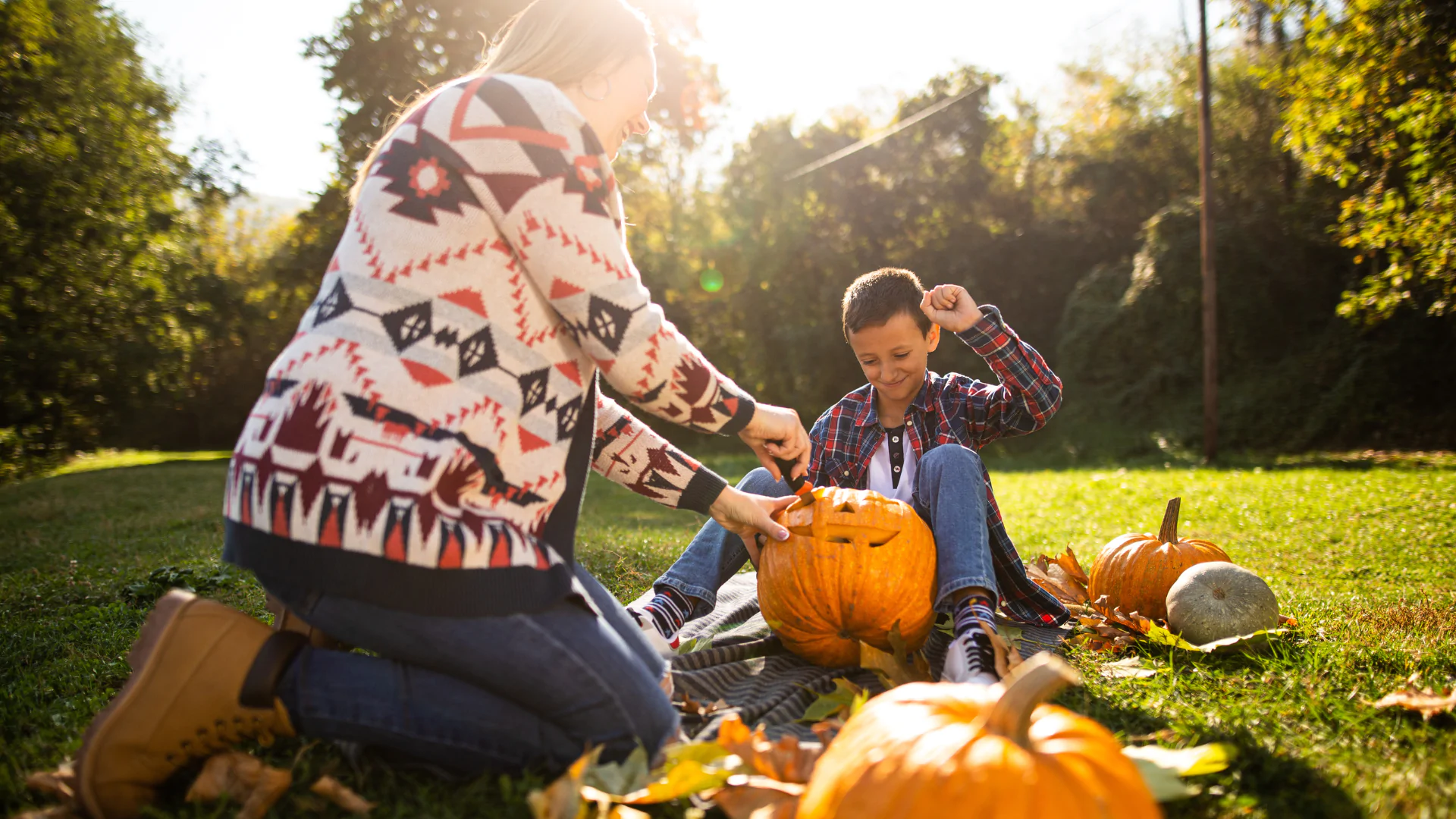 October 13, 2023 3:03 pm
The jack-o'-lantern has quite a long history as the holiday's unofficial mascot! Halloween started as a way for the Celts to avoid sinister tricks by the gods, and the jack-o'lantern was one of their tools. They carved demonic faces to frighten away the spirit of Stingy Jack, who was cursed to roam the Earth for eternity. The Devil took pity and gave him coal to light his lantern — so Jack-o'-Lantern was born. The Irish immigrants brought the tradition to America and started using native gourds instead, which we now know as pumpkin carving.
But how did Halloween and jack-o'-lanterns become best friends? That's where the Celts come back in. Halloween is based on the festival of Samhain (pronounced "sow-when"), when they believed the gods were visible and hunted down humans to torture them with evil tricks. But then along came the Roman Catholic Church. They moved Samhain to Oct. 31 and renamed it All Hallows' Eve. But that didn't stop the Celts from wearing disguises to hide from the gods and carving talismans as Samhain evolved into Halloween — and the jack-o'-lantern is still the most recognizable Halloween tradition worldwide.
Faces of Fortune
Jack-o'-lanterns are more fun and spooky today (and more popular than ever!). Seriously, have you seen the size of pumpkin patches? And they're not just for Halloween anymore — they are the ultimate symbol that Fall has arrived. So what should you carve, and how do you do it? Try these tips and tricks from a pumpkin-carving master.
Choose Wisely
Before you begin your adventure of pumpkin carving, have an idea of what you want to carve into it. Knowing this ahead of time will help you select a pumpkin of the right size! You can look online for creative patterns if you need inspiration — Pinterest is an excellent place to check.
Hollow and Thin
Hollowing out the pumpkin is the step most people dread, but it doesn't have to be. Once you cut the top of the pumpkin off, try using an electric mixer to remove the seeds and strings. You can then use a serrated spoon or the tool in retail carving kits to thin the rind. Don't forget to keep the seeds roasted with olive oil or butter and sea salt — they are so good and good for you!
Draw or Pin
Now for the real artistic challenge — let's bring your inspiration to life! Freehand pumpkins are some of the most interesting, so if you're feeling confident, jump right in with your carving tools. You can also try a pin to prick small holes through a paper pattern onto the pumpkin, or lighting sketching your design. Carve a fall scene, or a spooky graveyard, or take it to the next level with a night sky full of stars and the harvest moon.

When your creation is ready, display it on the front porch of your new home at The Colony. Enjoy all the fall décor and festivities in your fabulous new home in the best neighborhood in Bastrop. Start browsing available homes here now!

Tags: Bastrop Texas, Fall Fun, fun in Bastrop, Halloween, Pumpkin Carving, The Colony, The Colony Bastrop


Categorised in: Lifestyle, The Colony

This post was written by Jennifer Haveman