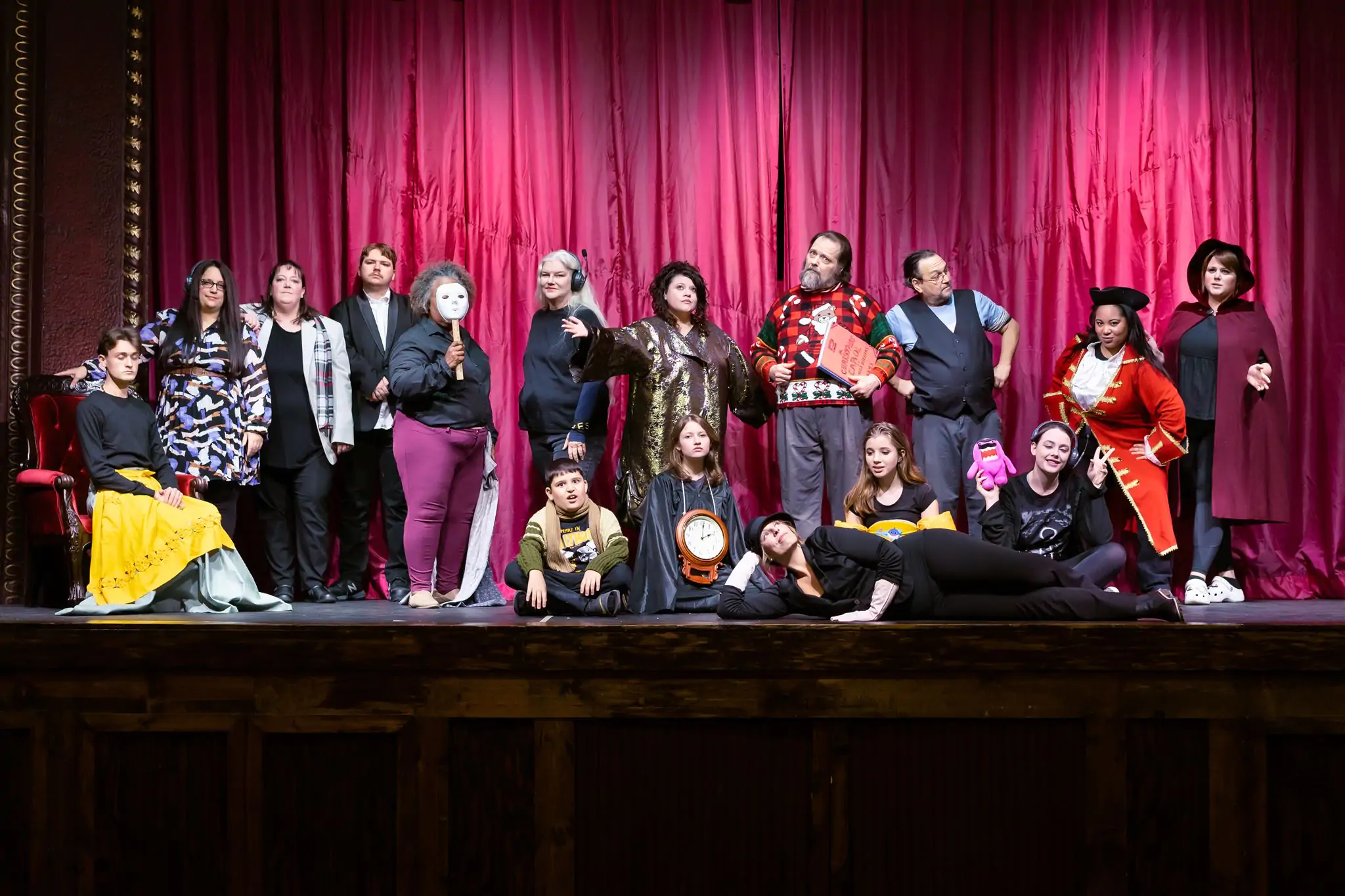 December 1, 2022 5:58 pm
Bastrop Opera House is a great place to enjoy a dinner theater, musical, play, or plan a special date night to take in an award-winning show. Located in Downtown Bastrop, it's the kind of historical theater venue that you usually find in much bigger cities, but Bastrop has prioritized keeping the local theater scene up and running.
Beyond providing a fun night out in Bastrop, the Opera House also contributes to youth programs, community actors' development, and stage professionals' careers. Keep reading to find out more to find out about upcoming shows and the story behind this local gem.
Bastrop Opera House History
In 1889, two successful Bastrop merchants built the Bastrop Opera House for $15,000, which is equivalent to $485,889 today.
With no TV, internet, or modes of transportation faster than a horse, access to live entertainment was rare. Books dominated the entertainment landscape, but titles were limited in Central Texas at the time. The Bastrop Opera House provided an oasis of entertainment in an otherwise scarce cultural landscape.
This put Bastrop on the map as a regional cultural center, but it hasn't exactly been a smooth ride since its opening. Over the years the building has been an opera house, a silent movie theater, a regular movie theater, a music venue, and a local hangout, and then, it fell into disrepair. In the '70s, Bastrop locals started a non-profit to renovate and rejuvenate the space. The theater provides a space for the performing arts to thrive, and locals knew that this Opera House could be used to improve the quality of life and the local economy. And now, we can see that their work has paid off.
Upcoming Shows at Bastrop Opera House
Christmas Chaos | 2-18 December 2022
When a professional theater company gets stranded across the country, it's up to a local theater group to perform their own version of Dickens's "A Christmas Carol". Directed by Jason Farley, tickets are $22 after fees. Visit their website for ticket information and afternoon or evening start times.
Techies | 6-15 January 2023
Techies was the 2019 winner of the Texas Network of Theatre new play competition. It contemplates youth, values, loyalty, and the human condition among other themes. Directed by Dustin Bartee, tickets are $22 after fees. Visit the website for information or to buy your tickets.
Check out the Bastrop Opera House's Winter/Spring schedule for more upcoming shows! Season tickets are available for $202 for the super fans that can't get enough of local theater.
Bastrop Opera House Classes
Aside from hosting great live performances, acting classes are also available at the Bastrop Opera House. Check for upcoming classes here. Classes at the Bastrop Opera House are a great way to refine acting skills, meet new people, and improve self-confidence in front of crowds.
Don't let the fear of public speaking stand in your way! Get tips and pointers from the pros in downtown Bastrop. They also put on a Summer Theater Camp for kids who are passionate or interested in theater and live stage performances.
The Arts in Bastrop
Bastrop's city leaders and active citizens devote resources, time, money, and artistic spirit to deliver high-quality entertainment close to home. The nonprofits and people behind Bastrop Opera House are committed to providing a great place to not only take in a show but also to help the city's local artists improve and develop their skills.

It makes Bastrop better. We get to live surrounded by natural beauty, close to Austin in the Texas Hill Country, with access to high-quality arts and live entertainment close to home. Bastrop is attracting tons of new residents as a result!

Bastrop County's population increased 10 out of the 11 years between 2010 and 2021 (usafacts.com). A huge part of that growth has been in Bastrop itself. People have taken notice of the great food, retail, schools, and entertainment near Austin, and they're making the easy decision to put roots down.

If you're one of the many families looking for a new home near Austin, then take a look at The Colony in Bastrop. You can purchase your dream home on a great lot surrounded by amenities, parks, open spaces, and friendly neighbors. Plus, our master-planned community is a quick trip from Austin, so you can have the best of both worlds.

If you're after the perfect home near Austin, then contact us for more info about life in The Colony.

Tags: Bastrop local, Bastrop Opera House, Bastrop Texas, life in Bastrop, The Colony Bastrop, things to do in Bastrop


Categorised in: Bastrop Local

This post was written by Jennifer Haveman