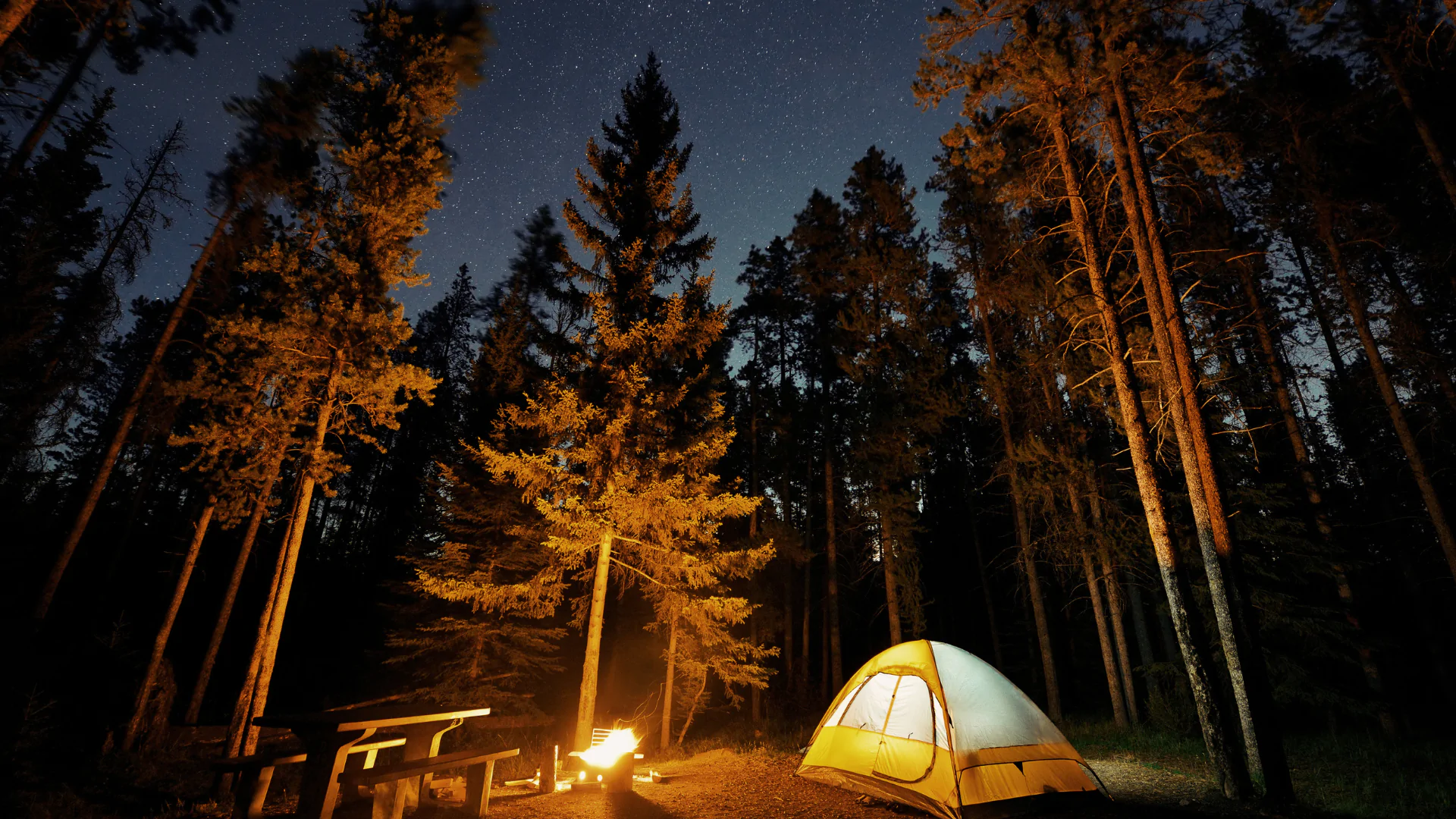 October 20, 2023 1:02 pm
Ah, fall is finally here, and we are ready to go camping. There's something cozy and inviting about a campfire on a breezy autumn night. Whether you prefer a tent, cabin, or RV, you can find the perfect place to camp in Bastrop.
Cabin in the Woods
Close to The Colony, down Highway 304, a pine forest beckons you to stay awhile. That's the Lost Pines, where rustic log cabins await at the 9E Ranch. 9E is a working cattle ranch with four log cabins on 320 acres with ponds, Piney Creek, and gorgeous views. You won't want to miss the horses, longhorn cattle, and lots of wildlife.
Each cabin is unique. The Texas Lone Star celebrates Western life with a cowhide rug, mounted horns, and Joan Bohls' landscape artwork. Warm up by the wood-burning stove, sit on the porch to watch wildlife, and marvel at the sky of stars at night. The Eagle's Nest is a romantic and cozy cabin. It is the perfect backdrop for honeymoons, anniversaries, or any special occasion. Its name is fitting, as it is a treehouse on a hill with sweeping views from inside and out. Bring the whole family to The Daisy. It has two bedrooms and decks with views from every side. Michelle's Log Cabin is for horse lovers, with an equine theme inside and a horse pasture across the way outside.
To Tent or Not to Tent?
Bastrop State Park is also in the Lost Pines. Choose one of the historic cabins, all built in the 1930s and named after famous Texans like Sam Houston. Or pick a campsite to pitch your tent or hook up an RV. Once you get settled in, your adventure begins! Whether you follow a winding hiking trail, play explorer throughout the forest, or bike the scenic park road, you are sure to have a story to share around the campfire. You can also fish in Lake Mina, where you don't need a license and can borrow gear from the park!
Packing 101
Packing for a camping trip is simple with this easy tip: Use a camping checklist. Pack the essentials like proper clothing for cool nights and warmer days, lanterns and flashlights with extra batteries, sleeping bags and pillows, and chairs. Also, remember to take something to shade you from the sun. And you definitely need cooking equipment too, such as a cast-iron skillet if you prefer cooking over the campfire.
Dinner by Campfire Light
It is hard to beat a meal cooked on an open campfire! You can go the traditional route of hot dogs cooked on sticks or long skewers and gooey 's'mores made from fire-roasted marshmallows. Or you may try using foil packs to cook on top of or buried inside the fire. You can cook chicken, beef, veggies, and even fruit in a tin foil wrapper. They have a campfire scent, and the packs keep the juices inside, so your dinner is moist and delicious.

Life in The Colony gives you the best of both worlds: wide, open spaces with trails and greenery and modern houses with modern technology. You can stay in your neighborhood for outdoor time or take a short drive to Bastrop to go camping in the woods. Either way, you will be close to nature. Learn more about calling our master-planned community home here!

Tags: Bastrop Camping, Bastrop Texas, Camping, Fall Fun, fun in Bastrop, The Colony, The Colony Bastrop


Categorised in: Bastrop Local, Lifestyle, The Colony

This post was written by Jennifer Haveman